NCP1937BADAPGEVB: 90 W Adapter PFC+QR 10 MW Evaluation Board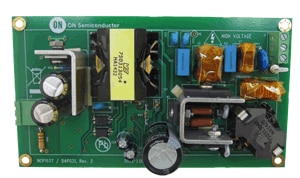 This combination IC integrates power factor correction (PFC) and quasi-resonant flyback functionality necessary to implement a compact and highly efficient Switched Mode Power Supply for an adapter application.

The PFC stage exhibits near-unity power factor while operating in a Critical Conduction Mode (CrM) with a maximum frequency clamp. The circuit incorporates all the features necessary for building a robust and compact PFC stage while minimizing the number of external components.

The quasi-resonant current-mode flyback stage features a proprietary valley-lockout circuitry, ensuring stable valley switching. This system works down to the 4th valley and toggles to a frequency foldback mode with a minimum frequency clamp beyond the 4th valley to eliminate audible noise. Skip mode operation allows excellent efficiency in light load conditions while consuming very low standby power consumption.
Evaluation/Development Tool Information
Your request has been submitted for approval.
Please allow 2-5 business days for a response.
You will receive an email when your request is approved.
Request for this document already exists and is waiting for approval.