NCP1622GEVB: 160-W, Wide Mains, PFC Stage Driven by the NCP1622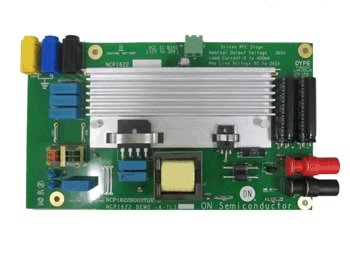 The NCP1622 Evaluation Board implements a complete 160W/390 Vdc nominal Power Factor Correction Stage and operates from 90-265 Vac. The board illustrates a low profile (<13 mm height) that might be used in a flat TV or All-in-One PC Application. The target efficiency and power factor at full load for this board is >95% with a PF > 0.95 and meets EN61000-3-2 Class C and Class D requirements.

The NCP1622 is active power factor corrected (PFC) controller specifically designed for use as a boost pre-converter in ac-dc adapters, flat TVs, lighting ballasts and other medium powered offline applications. The controller is based on an innovative Valley Synchronized Frequency Fold-back (VSFF) method. In this mode, the circuit classically operates in Critical conduction Mode (CrM) when the inductor current exceeds a programmable value. When the current is below this preset level, the NCP1622 linearly reduces the frequency down to about 20 kHz when the current is at a null. VSFF maximizes the efficiency at both nominal and light load. In particular, the standby losses are reduced to a minimum. The controller features a robust suite of protection features to properly handle an array of power supply operating and fault conditions.
Evaluation/Development Tool Information
Your request has been submitted for approval.
Please allow 2-5 business days for a response.
You will receive an email when your request is approved.
Request for this document already exists and is waiting for approval.