NCP1618MM500WGEVB: NCP1618MM500WGEVB - 500W evaluation board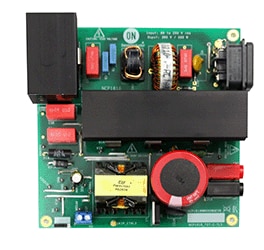 The NCP1618A is an innovative multimode power factor controller. The circuit naturally transitions from one operation mode (CCM, CrM or DCM) to another depending on the switching period duration so that the efficiency is optimized over the line/load range. In very light-load conditions, the circuit enters the soft-SKIP mode for minimized losses. Housed in a SO-9 package, the circuit further incorporates the features necessary for building robust and compact PFC stages, with few external components. The evaluation board is a 500-W wide-mains PFC stage.
Evaluation/Development Tool Information
Your request has been submitted for approval.
Please allow 2-5 business days for a response.
You will receive an email when your request is approved.
Request for this document already exists and is waiting for approval.