NCP1612GEVB: 160 W Low Profile PFC Evaluation Board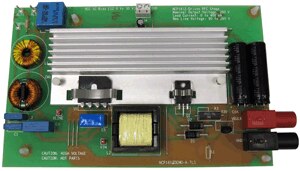 The NCP1612 Evaluation Board implements a complete 160W/390 Vdc nominal Power Factor Correction Stage and operates from 90-265 Vac. The board illustrates a low profile (<13 mm height) that might be used in a flat TV or All-in-One PC Application. The target efficiency and power factor at full load for this board is >95% with a PF > 0.95 and meets EN61000-3-2 Class C and Class D requirements.
The NCP1612 is active power factor corrected (PFC) controller specifically designed for use as a boost preconverter in ac-dc adapters, flat TVs, lighting ballasts and other medium powered offline applications. The controller is based on an innovative Current Controlled Frequency Foldback(CCFF) method. In this mode, the circuit classically operates in Critical conduction Mode (CrM) when the inductor current exceeds a programmable value. When the current is below this preset level, the NCP1612 linearly reduces the frequency down to about 20 kHz when the current is at a null. CCFF maximizes the efficiency at both nominal and light load. In particular, the standby losses are reduced to a minimum. The controller features a robust suite of protection features to properly handle an array of power supply operating and fault conditions.
The NCP1612 includes a PfcOkay Output intended to signal the downstream converter to the state of the PFC stage and features a dedicated pin for fast output Overvoltage protection and bulk under-voltage detection.
Evaluation/Development Tool Information
| Product | Status | Compliance | Short Description | Parts Used | Action |
| --- | --- | --- | --- | --- | --- |
| NCP1612GEVB | Active | | 160 W Low Profile PFC Evaluation Board | NCP1612BDR2G | |
Your request has been submitted for approval.
Please allow 2-5 business days for a response.
You will receive an email when your request is approved.
Request for this document already exists and is waiting for approval.