NCP1593BGEVB: 3 A Synchronous Buck Regulator Evaluation Board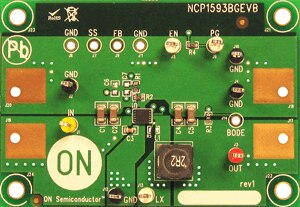 The NCP1593 is a fixed 1 MHz, high output current, synchronous PWM converter that integrates a low-resistance, high-side P-channel MOSFET and a low-side N-channel MOSFET. The NCP1593 utilizes internally compensated current mode control to provide good transient response, ease of implementation and excellent loop stability. It regulates input voltages from 4.0 V to 5.5 V down to an output voltage as low as 0.6 V and is able to supply up to 3 A of load current. The NCP1593 includes an internally fixed switching frequency (FSW), and an internal soft-start to limit inrush current. Other features include cycle-by-cycle current limiting, 100% duty cycle operation, short- circuit protection, power saving mode and thermal shutdown.
Evaluation/Development Tool Information
| Product | Status | Compliance | Short Description | Parts Used | Action |
| --- | --- | --- | --- | --- | --- |
| NCP1593BGEVB | Active | | 3 A Synchronous Buck Regulator Evaluation Board | NCP1593BMNTWG | |
Your request has been submitted for approval.
Please allow 2-5 business days for a response.
You will receive an email when your request is approved.
Request for this document already exists and is waiting for approval.