NCP1423EVB: 400 mA DC-DC Converter Evaluation Board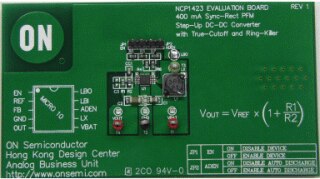 The NCP1423 is a monolithic micropower high frequency step−up switching converter IC specially designed for battery operated hand held electronic products. It integrates Synchronous Rectifier for improving efficiency as well as eliminating the external Schottky Diode. High switching frequency (up to 600 kHz) allows a low profile inductor and output capacitor to be used. When the IC is disabled the internal conduction path from pin LX or BAT to pin OUT is blocked. The OUT pin is isolated from the battery, which achieves True−Cutoff. Ring−Killer is also integrated to eliminate the high frequency ringing in discontinuous conduction mode. Low Battery Detector, Cycle−by−Cycle Current Limit, Overvoltage Protection and Thermal Shutdown provide value added features for various battery operated application. With all of these functions on the quiescent supply current is only 9.0 mA. This device is available in a compact Micro10 package.
Features and Applications
Features

High Efficiency:
o 92% for 3.3 V Output @ 400 mA from 2.5 V Input
o 89% for 1.8 V Output @ 100 mA from 1.2 V Input
0.8 V Startup at No Load Guaranteed
External Adjustable Output Voltage
±1.5% Output Voltage Accuracy
Open Drain Low Battery Detector Output
Output Current up to 400 mA at VOUT = 3.3 V, 200 mA at VOUT = 1.8 V
Pb Free Package is Available
Evaluation/Development Tool Information
| Product | Status | Compliance | Short Description | Parts Used | Action |
| --- | --- | --- | --- | --- | --- |
| NCP1423EVB | Active | | 400 mA DC-DC Converter Evaluation Board | NCP1423DMR2G | |
Your request has been submitted for approval.
Please allow 2-5 business days for a response.
You will receive an email when your request is approved.
Request for this document already exists and is waiting for approval.