NCP1422GEVB: Up to 800 mA DC-DC Converter Evaluation Board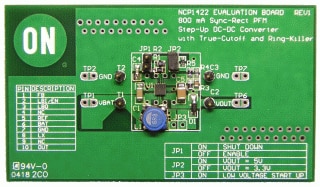 The NCP1422 is a monolithic, micro-power, high-frequency, step-up switching converter IC designed for battery operated hand-held electronic products with up to 800 mA loading. It integrates a synchronous rectifier (Sync-Rect) to improve efficiency and to eliminate the external Schottky Diode. The NCP1422's high switching frequency (up to 1.2 MHz) allows for a low profile, small sized inductor and output capacitor to be used. When the device is disabled, the internal conduction path from the battery to the load is fully blocked, which isolates the load from the battery. This True-Cutoff function reduces the shutdown current to typically only 50 nA. A Ring-Killer is also integrated to eliminate high-frequency ringing in discontinuous conduction mode. Finally, a Low-Battery Detector, Logic-Controlled Shutdown, Cycle-by Cycle Current Limiting and Thermal Shutdown provide value-added features for various battery operated applications. With all these functions on, the quiescent supply current is typically only 8.5 uA. This device is available in the compact and low profile DFN-10 package.

The NCP1422 evaluation board can be configured to output 3.3 V or 5.0 V by removing or adding, respectively, the JP2 jumper. The 5.0 V configuration sources up to 800 mA with Vin = 3.6 V, and the 3.3 V configuration sources up to 800 mA with Vin = 2.5 V. The board also includes a low-voltage, startup circuit that can be enabled with the JP3 jumper.

Features and Applications
Features

High Efficiency:
- 94% for 3.3 V Output at 200 mA from 2.0 V Input
- 84% for 3.3 V Output at 500 mA from 2.5 V Input
High Switching Frequency, up to 1.2 MHz (Not Hitting Current Limit)
True-Cutoff Function Reduces Device Shutdown Current to typically 50 nA
Ring-Killer for Discontinuous Conduction Mode
Space-Saving 3mm x 3mm DFN-10 package
Evaluation/Development Tool Information
| Product | Status | Compliance | Short Description | Parts Used | Action |
| --- | --- | --- | --- | --- | --- |
| NCP1422GEVB | Active | | Up to 800 mA DC-DC Converter Evaluation Board | NCP1422MNR2G | |
Your request has been submitted for approval.
Please allow 2-5 business days for a response.
You will receive an email when your request is approved.
Request for this document already exists and is waiting for approval.