NCP1406V25GEVB: Monolithic Micropower PFM Step-Up DC-DC Converter Evaluation Board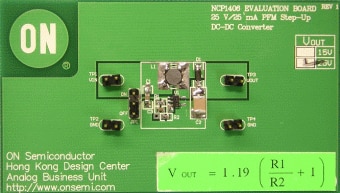 The NCP1406 is a monolithic micropower PFM step-up DC-DC converter. This device is designed to boost single lithium or two cells AA/AAA battery voltage up to 25 V (with internal MOSFET) output for handheld applications. Target applications include OLED Power, White LED Drivers, and LCD Bias. In addition to standard boost converter topologies, this device can be configured for voltage-inverting and step-down applications. This device is available in space-saving thin SOT23-5 (TSOP-5) package. With its small footprint, the device is also ideal for generating a boosted voltage from a 3.3 V or 5.0 V power rail.

There are 2 versions of the demo board that have been preconfigured to generate a voltage of 25V or 15V.

Features and Applications
Features

85% Efficiency at VOUT = 25 V, IOUT = 25 mA, VIN = 5.0 V
Low Operating Current of 15 uA (Not Switching)
Low Shutdown Current of 0.3 uA
Low Startup Voltage of 1.8 V Typical at 0 mA
Output Voltage up to 25 V with Built-in 26 V MOSFET Switch
PFM Switching Frequency up to 1.0 MHz
Chip Enable
Output Voltage Soft-Start
Feedback Pin Open/Short Circuit Protection
Input Under-voltage Lockout
Thermal Shutdown
Low Profile and Minimum External Parts
Pb-Free Package is Available
Evaluation/Development Tool Information
| Product | Status | Compliance | Short Description | Parts Used | Action |
| --- | --- | --- | --- | --- | --- |
| NCP1406V25GEVB | Active | | Monolithic Micropower PFM Step-Up DC-DC Converter Evaluation Board | NCP1406SNT1G | |
Your request has been submitted for approval.
Please allow 2-5 business days for a response.
You will receive an email when your request is approved.
Request for this document already exists and is waiting for approval.