NCP1075NONGEVB: 8W, DUAL, NON-ISOLATED EVALUATION BOARD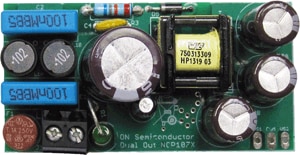 This evaluation board features an 8 watt, off-line, dual output, flyback power supply intended for powering white goods or industrial equipment circuitry which does not require output isolation from the AC mains. The flyback converter is designed around ON Semiconductor's 100 kHz NCP1075 monolithic switching controller. A simple voltage sensing and feedback scheme utilizing a current mirror transistor pair (Q1), and zener diode (Z1) is utilized for low cost yet effective output regulation for most typical applications.

This particular design example provides output voltages of 5V and 8.5V but these can be tailored to other voltages to accommodate the specific requirements by appropriate transformer turns ratio changes and alterations to voltage setting zener Z1 and resistor R6.
Features and Applications
Features

Schottky diodes (D6, D7) on both outputs for high efficiency
Dual sensing options depending on desired regulation accuracy
Input EMI filter for conducted emission compliance
Input fuse and inrush limiting resistor (R1)
Good load and cross regulation on 8.5Vout due to secondary winding technique on transformer
Evaluation/Development Tool Information
Your request has been submitted for approval.
Please allow 2-5 business days for a response.
You will receive an email when your request is approved.
Request for this document already exists and is waiting for approval.