NCN1154MUTGEVB: DP3T Switch Evaluation Board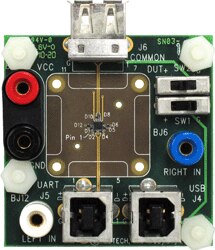 The NCN1154 is a DP3T switch for combined true-ground audio, USB 2.0 high speed data, and UART applications. It allows portable systems to use a single port to pass either USB data or audio signals from an external headset. The switch is capable of passing signals with negative voltages as low as 2 V below ground.
The NCN1154 features shunt resistors on the audio ports. These resistors are switched in when the audio channel is off and provide a safe path to ground for any charge that may build up on the audio lines.
This reduces Pop & Click noise in the audio system. The device has an extended VCC range which can operate off VCC up to 4.2 V while passing true ground audio signals down to -2 V.
The NCN1154 is housed in a space saving, ultra low profile 1.7 x 2.0 x 0.5 mm 12 pin DFN package.
Evaluation/Development Tool Information
Your request has been submitted for approval.
Please allow 2-5 business days for a response.
You will receive an email when your request is approved.
Request for this document already exists and is waiting for approval.