NCL30186SMRTGEVB: 8W Smart LED Driver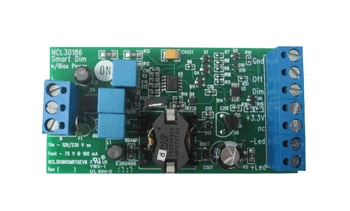 The NCL30186SMRTGEVB Evaluation Board is an AC-DC power factor corrected flyback controller targeting isolated and non−isolated "Smart−dimmable" constant current LED drivers. The controller operates in a quasi−resonant mode to provide optimal efficiency. The current control algorithm supports flyback, buck−boost, and SEPIC topologies. Thanks to a novel control method, the device is able to tightly regulate a constant LED current from the primary side. This removes the need for secondary side feedback circuitry, biasing and an optocoupler. The device is highly integrated with a minimum number of external components. A robust suite of safety protection is built in to simplify the design. This device is specifically intended for very compact space efficient designs and supports analog and PWM dimming with a dedicated dimming input intended to control the average LED current. To ensure reliable operation at elevated temperatures, a user configurable current foldback circuit is also provided.
Features and Applications
Features

Power factor correction with low harmonic distortion
Constant Current Control with Primary Side Feedback
Precise Current Regulation Accuracy
Line feedforward for enhanced regulation accuracy
Wide Vcc operating range

Benefits

Enables smart lighting applications
No Optocoupler or secondary control circuitry required
Supports outdoor and high temperature environments
Supports wide range of LED forward voltages
Improve regulation acrross line variation
Evaluation/Development Tool Information
Your request has been submitted for approval.
Please allow 2-5 business days for a response.
You will receive an email when your request is approved.
Request for this document already exists and is waiting for approval.