NCL30085FLYGEVB: Power Factor Corrected 3 Step Dimmable Evaluation Board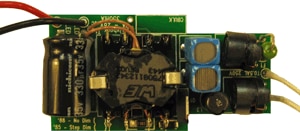 The NCL30085FLYGEVB evaluation board is designed to quickly test the NCL30085, which is a power factor corrected flyback controller. The demo board showcases the NCL30085 in an isolated flyback topology and the form factor of the board is intended to fit within the base of a LED bulb such as an A-lamp, PAR, or BR style. The nominal output current of the demo board is 350 mA and the output voltage range is 14-28 V. The current can changed with a simple resistor change.

This board showcases the step dimming capability of the NCL30085. By briefly toggling ON and OFF the AC power to the board, this will be detected as a brownout event and when power is toggled back ON, the current will be reduced. There are 3 dimming steps of 70, 25% and 5% of full load.
Evaluation/Development Tool Information
| Product | Status | Compliance | Short Description | Parts Used | Action |
| --- | --- | --- | --- | --- | --- |
| NCL30085FLYGEVB | | | Power Factor Corrected 3 Step Dimmable Evaluation Board | NCL30085BDR2G | |
Your request has been submitted for approval.
Please allow 2-5 business days for a response.
You will receive an email when your request is approved.
Request for this document already exists and is waiting for approval.