NCL30082SMRTGEVB: 8 W SEPIC LED Driver Evaluation Board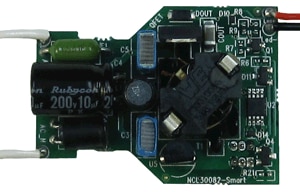 The NCL30082SMRTGEVB is designed to effectively evaluate the NCL30082, which is a PWM current mode controller targeting isolated flyback and non-isolated buck-boost constant current topologies. The controller operates in a quasi-resonant mode to provide high efficiency. Thanks to a novel control method, the device is able to precisely regulate a constant LED current from the primary side. This removes the need for secondary side feedback circuitry, biasing and an optocoupler. The device is highly integrated with a minimum number of external components. A robust suite of safety protection is built in to simplify the design. The device supports analog/digital dimming and thermal foldback.
Evaluation/Development Tool Information
Your request has been submitted for approval.
Please allow 2-5 business days for a response.
You will receive an email when your request is approved.
Request for this document already exists and is waiting for approval.