NB6L14MMNGEVB: CML Clock/Data Fanout Buffer Evaluation Board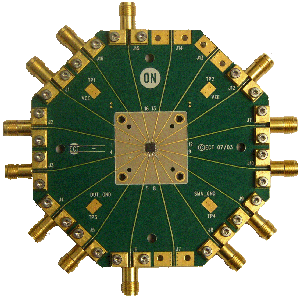 The NB6L14M is a 3.0GHz differential 1:4 CML clock or data fanout buffer. The differential inputs incorporate internal 50-ohm termination resistors that are accessed through the VT pin. This feature allows the NB6L14M to accept various logic standards, such as CML, LVCMOS, LVTTL, CML, or LVDS logic levels. The 16mA differential CML outputs provide matching internal 50-ohm terminations and produce 400mV output swings when externally terminated with a 50-ohm resistor to VCC. The VREFAC reference output can be used to rebias capacitor-coupled differential or single-ended input signals. The 1:4 fanout design was optimized for low output skew applications. The NB6L14M is a member of the ECLinPS MAX family of high performance clock and data management products.
Evaluation/Development Tool Information
| Product | Status | Compliance | Short Description | Parts Used | Action |
| --- | --- | --- | --- | --- | --- |
| NB6L14MMNGEVB | Active | | CML Clock/Data Fanout Buffer Evaluation Board | NB6L14MMNG | |
Your request has been submitted for approval.
Please allow 2-5 business days for a response.
You will receive an email when your request is approved.
Request for this document already exists and is waiting for approval.