NB4N507ADEVB: PECL Clock Synthesizer Evaluation Board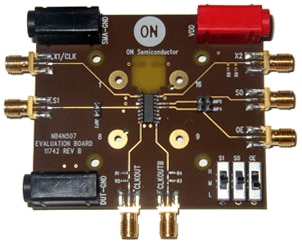 The NB4N507ADEVB Evaluation Board provides a flexible and convenient platform to quickly evaluate, characterize and verify the performance and operation of the NB4N507A PECL Clock Synthesizer. The evaluation board is constructed with Getek material with 50 Ω trace impedance's and is designed to minimize noise, achieve high bandwidth and minimize cross talk.
Features and Applications
Features

Accommodates the Electrical Characterization of the NB4N507A in 16-pin 150 mil SOIC Package
Supports use of a 10 MHz to 27 MHz Through-hole or Surface Mount Crystal
Incorporates on Board Slide Switch Controlled Multiplier Select and OE Logic Pins, Minimizing Excess Cabling
SMA Connectors are Provided for Auxiliary Input and Output Interfaces
Differential PECL Outputs Loaded/Terminated On-board; Output Signals are Monitored via SMA Connectors
Convenient and Compact Board Layout
3.3 V or 5.0 V Single or Split-Power Supply Operation
Evaluation/Development Tool Information
| Product | Status | Compliance | Short Description | Parts Used | Action |
| --- | --- | --- | --- | --- | --- |
| NB4N507ADEVB | Active | | PECL Clock Synthesizer Evaluation Board | NB4N507ADG | |
Your request has been submitted for approval.
Please allow 2-5 business days for a response.
You will receive an email when your request is approved.
Request for this document already exists and is waiting for approval.