FUSB3307MPX-PPS-GEVB: Eval board for FUSB3307MPX & NCV81599, QFNW20 Package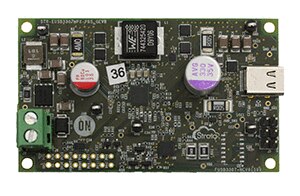 The FUSB3307 evaluation board (GEVB), or kit (EVK), is a complete platform to evaluate the Type-C interface detection and USB Power Delivery 3.0 solution the FUSB3307 provides. The EVB is designed for both stand-alone operation and connection to test equipment for specific testing requirements. Using a single DC power supply, the EVB functions as a source only port. The various FUSB3307 evaluation boards contain a USB Type-C source controller supporting USB Power Delivery (PD) 3.0 with PPS (Programmable Power Supply) based on USB PD 3.0 standards, as well as a 4-switch buck boost controller, delivering VBUS levels from 3.3 V to 21 V, and supporting nominal current loads up to 3 A. The evaluation board has a VBAT connector for a DC power supply. It connects to the input switch of the NCV81599 DC to DC 4-switch Buck Boost Controller. The FUSB3307 is used for CV/CC control by providing feedback compensation to the NCV81599 controller. On the EVB, there are multiple test points for device validation. For example, VBUS and GND_SNS test points can be used for VBUS load testing.
Features and Applications
Features

Wide Input Voltage Range 4.5 V ~ 32 V
Wide Output Voltage Range 3.3 V ~ 21 V
Type−C r1.4 / USB PD 3.0 v1.2 Compliant
USB−IF TID # 1430
Type−C Source Only
Detects Cable Marker Identity
VCONN Supply
CV/CC Control with CATH Pin
On Board 5 mOhm Rsense Resistor
Over−Current/Short−Circuit Protection (OCP)
Auto−tuning OCP for Low Output Voltages
Over−Temperature Protection (OTP)
Over− and Under−Voltage Protection (OVP/UVP)
Cable Fault Detection
External NFET for VBUS Control
Easily Accessible Test Points for Rapid Evaluation and Performance Measurements
Evaluation/Development Tool Information
Your request has been submitted for approval.
Please allow 2-5 business days for a response.
You will receive an email when your request is approved.
Request for this document already exists and is waiting for approval.