FUSB307BGEVB: Eval board for FUSB307B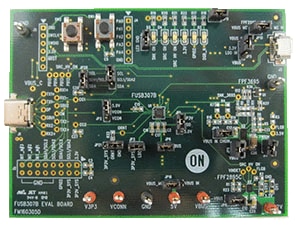 The FUSB307B targets system designers looking to implement up to four USB Type-C port controllers (TCPC) with USB-PD capabilities.
This solution provides integrated Type-C Rev 1.3 detection circuitry enabling manual attach/detach detection. Time critical Power Delivery functionality is handled autonomously, offloading the Processor or Type-C Port Manager (TCPM).
The FUSB307B complies with the USB-PD Interface Specification.
Features and Applications
Features

USB-PD Interface Spec Rev 1.0 Ver. 1.2 Compatible
USB Type−C Rev 1.3 Compatible
Extended Data Messages (Chunked)
Fast Role Swap
Sink Transmit
USB−PD Rev 3.0 Ver. 1.1 Compatible
Dual−Role Functionality
♦ Manual Type−C Detection
♦ Automatic DRP Toggling
USB−PD Interface Specification Support
♦ Automatic GoodCRC Packet Response
♦ Automatic Retries of Sending Packet
♦ All SOP* Types Supported
VBUS Source and Sink Control
Integrated 3 W Capable VCONN to CCx Switch
10-bit VBUS ADC
Programmable GPIOs
4 Selectable I2C Addresses
Dead Battery Operation
♦ Powered from VBUS
♦ LDO Output provides power to TCPM
Packaging
♦ 16-pin WQFN (3.0 × 3.0 mm)
Evaluation/Development Tool Information
| Product | Status | Compliance | Short Description | Parts Used | Action |
| --- | --- | --- | --- | --- | --- |
| FUSB307BGEVB | Active | | Eval board for FUSB307B | FUSB307BMPX | |
Your request has been submitted for approval.
Please allow 2-5 business days for a response.
You will receive an email when your request is approved.
Request for this document already exists and is waiting for approval.