FEBFSL336LRN-CS04U07A-GEVB: Multi-Output Buck Converter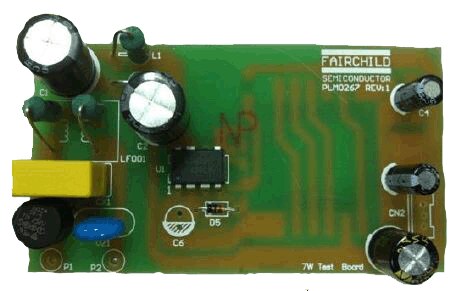 The FEBFSL336LRN-CS04U07A-GEVB integrated Pulse-Width Modulator (PWM) and SenseFET are specifically designed for high-performance offline buck, buck-boost, and non-isolation flyback Switched Mode Power Supplies (SMPS) with minimal external components. This device integrates a high-voltage power regulator that enables operation without auxiliary bias winding. An internal transconductance amplifier reduces external components for the feedback compensation circuit. The integrated PWM controller includes: 10 V regulator for no external bias circuit, Under-Voltage Lockout (UVLO), Leading-Edge Blanking (LEB), an optimized gate turn- on / turn-off driver, EMI attenuator, Thermal Shutdown (TSD), temperature-compensated precision current sources for loop compensation, and fault-protection circuitry. Protections include: Overload Protection (OLP), Over-Voltage Protection (OVP), and Feedback Open-Loop Protection (FB_OLP). FEBFSL336LRN-CS04U07A-GEVB offers good soft-start performance during startup. The internal high-voltage startup switch and the Burst-Mode operation with very low operating current reduce the power loss in Standby Mode. As the result, it is possible to reach power loss of 120 mW without external bias and 25 mW with external bias when input voltage is 230 VAC.
Features and Applications
Features

Built-in Avalanche-Rugged SenseFET: 650 V
Fixed Operating Frequency: 50 kHz
No-Load Power Consumption: <25 mW at 230 VAC with External Bias; <120 mW at 230 VAC without External Bias
No Need for Auxiliary Bias Winding
Frequency Modulation for Attenuating EMI
Pulse-by-Pulse Current Limiting
Ultra-Low Operating Current: 250 µA
Built-in Soft-Start and Startup Circuit
Adjustable Peak Current Limit
Built-in Transconductance (Error) Amplifier
Protections: Overload Protection (OLP), Over-Voltage Protection (OVP), Feedback Open Loop Protection (FB_OLP), Thermal Shutdown (TSD)
Fixed 650 ms Restart Time for Safe Auto-Restart Mode of All Protections
Evaluation/Development Tool Information
Your request has been submitted for approval.
Please allow 2-5 business days for a response.
You will receive an email when your request is approved.
Request for this document already exists and is waiting for approval.