FEBFHR1200-SPG01A-GEVB: High-Performance Shunt Regulator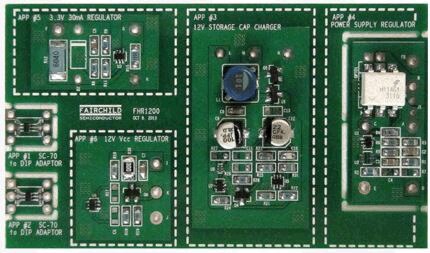 The FHR1200 is a high-efficiency regulator that outperforms a typical shunt regulator in applications where low operating power, wide temperature range, and wide voltage range are important. The regulator also features better stability and faster response than many existing regulators.

The FHR1200 can be used for isolated and non-isolated secondary side regulation plus, primary side, and floating regulation because the regulator can directly drive a power supply controller. This reduces parts count and circuit complexity in many applications. Non-isolated secondary-side regulation saves the cost of OPTOs and simplifies the power supply design.

The FHR1200 can be used in many diverse applications. For example: VCC regulators to >100 V, small additional auxiliary power supplies, programmable precision Zener diodes (both high and low power), plus numerous analog circuits.

The FHR1200 can also be used as a standalone, low-cost, thermally stable, ~7.5 V voltage reference.
Features and Applications
Features

Reference Voltage Accuracy: ±2%
Sink Current Capability: 10 µA to 50 mA
Low Output Noise
Fast Turn-On
Low Dynamic Impedance
Temperature Compensated: Typical <50 ppm
Fewest External Component Count
Programmable Output: 7.5 to >100 V
Low Current Operation: <10 µA
Wide Operating Temperature Range: -55 to 150°C
Available in the 6-Lead SC70 Package
Evaluation/Development Tool Information
| Product | Status | Compliance | Short Description | Parts Used | Action |
| --- | --- | --- | --- | --- | --- |
| FEBFHR1200-SPG01A-GEVB | Active | | High-Performance Shunt Regulator | | |
Your request has been submitted for approval.
Please allow 2-5 business days for a response.
You will receive an email when your request is approved.
Request for this document already exists and is waiting for approval.