FEBFAN7688SJXA-CP14U306-GEVB: 306 W/12 V PC Application with 12 VSB Module Evaluation Board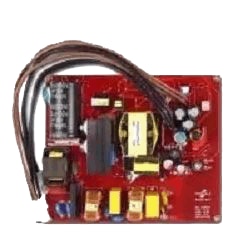 The LLC converter in this Evaluation Board (EVB) is controlled by the FAN7688; it's a 16-pin controller and locates in secondary side. The FAN7688 includes PFM and PWM controls to optimization efficiency for all loading, its combine advantage SR control improves efficiency. It employs a current mode control technique based on charge control; this provides a better control-to-output and line-to-output transfer function of the power stage, simplifying the feedback loop design while allowing true input power limit capability. The PFC is controlled by the FAN6982, based on Continuous Conduction Mode (CCM), which employs leading edge modulation for average current control and has a number of advanced features for better performance and reliability.
Features and Applications
Features

LLC:
Secondary Side PFM Controller with Synchronous Rectifier Control
Charge Current Control for better Transient Response and Simplified Feedback Loop Design
Adaptive Synchronous Rectification Control with Dual Edge Tracking
Closed Loop Soft-Start
Green Functions to Improve Light Load Efficiency
Symmetric PWM Control at Light Load to Limit the Switching Frequency while Reducing Switching Losses
Disabling SR During Light Load Operation
Complete Protection Functions with Auto-Restart
PFC:
Continuous Conduction Mode and Average-Current-Mode Control
Power-On Sequence Control
Brownout Protection
Fulfills Class-D Requirements of IEC 61000-3-2
Universal AC Input Voltage
Efficiency Optimization by External Output Voltage Adjustable Circuit

Evaluation/Development Tool Information
Your request has been submitted for approval.
Please allow 2-5 business days for a response.
You will receive an email when your request is approved.
Request for this document already exists and is waiting for approval.