FEBFAN7631-L17U120A-GEVB: 120 W LED Driver at Universal Line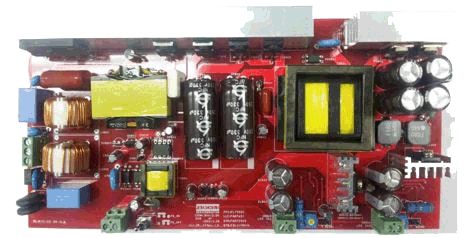 The FSL117MRIN is an integrated Pulse Width Modulation (PWM) controller and 700 V SenseFET specifically designed for offline Switched-Mode Power Supplies (SMPS) with minimal external components. The PWM controller includes an integrated fixed-frequency oscillator, Line Over-Voltage Protection (LOVP), Under-Voltage Lockout (UVLO), Leading-Edge Blanking (LEB), optimized gate driver, internal soft-start, temperature-compensated precise current sources for loop compensation, and self-protection circuitry. Compared with a discrete MOSFET and PWM controller solution, the FSL117MRIN can reduce total cost, component count, size, and weight; while simultaneously increasing efficiency, productivity, and system reliability. This device provides a basic platform for cost-effective design of a flyback converter.

The FL7930C is an active Power Factor Correction (PFC) controller for low- to high-power lumens applications that operate in Critical Conduction Mode (CRM). It uses a voltage-mode PWM that compares an internal ramp signal with the error amplifier output to generate a MOSFET turn-off signal. Because the voltage-mode CRM PFC controller does not need rectified AC line voltage information, it saves the power loss of an input voltage-sensing network. FL7930B provides over-voltage, open-feedback, over-current, input-voltage-absent detection, and under-voltage lockout protections. The FL7930B can be disabled if the INV pin voltage is lower than 0.45 V and the operating current decreases to a very low level. Using a new variable on-time control method, Total Harmonic Discharge (THD) is lower than conventional CRM boost PFC ICs. The FL7930C provides a PFC Ready pin that can be used to shutdown the boost power stage when PFC output voltage reaches the proper level (with hysteresis).

The FAN7631 is a pulse-frequency modulation controller for high-efficiency half-bridge resonant converters that includes a high-side gate drive circuit, an accurate current-controlled oscillator, and various protection functions. The FAN7631 features include variable dead time, high operating frequency up to 600 kHz, protections such as LUVLO, and a selectable latch or A/R protection using the LS pin for user convenience. The Zero-Voltage-Switching (ZVS) technique reduces the switching losses and improves the efficiency significantly. ZVS also reduces the switching noise noticeably, which allows a small Electromagnetic Interference (EMI) filter. Offering everything necessary to build a reliable and robust resonant converter, the FAN7631 simplifies designs and improves productivity and performance. The FAN7631 can be applied to resonant converter topologies such as series resonant, parallel resonant, and LLC resonant converters.

The FAN73402 is a single-channel boost controller that integrates an N-channel power MOSFET for PWM dimming using Fairchild?s proprietary planar Double-diffused MOSFET (DMOS) technology. The IC operates as a constant-current source for driving high-current LEDs. It uses Current Mode control with programmable slope compensation to prevent sub-harmonic oscillation. The IC provides protections including: open-LED protection, over-voltage protection, and direct-short protection for high system reliability. The IC internally generates a FAULT signal with delay if an abnormal LED string condition occurs. PWM dimming and analog dimming functions can be implemented independently. Internal soft-start prevents inrush current flowing into output capacitor at startup.
Evaluation/Development Tool Information
Your request has been submitted for approval.
Please allow 2-5 business days for a response.
You will receive an email when your request is approved.
Request for this document already exists and is waiting for approval.