FEBFAN6602RM6X-CH10U40A-GEVB: Computing Notebook Adapter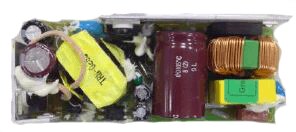 The operating current in the FAN6602R is as small as 3 mA. The small operating current results in higher efficiency and reduces the VDD hold-up capacitance requirement. Once the FAN6602R enters deep-green mode, the operating current is reduce to 0.6 mA, thus assisting the power supply to easily meet the power conservation.

By using the FAN6602R, an adapter can be implemented with fewest external components and minimized cost.
Evaluation/Development Tool Information
Your request has been submitted for approval.
Please allow 2-5 business days for a response.
You will receive an email when your request is approved.
Request for this document already exists and is waiting for approval.