FEBFAN6230AMPX-CH04U12A-GEVB: Synchronous Rectification Controller 12.5 W (5 V / 2.5 A) Power Supply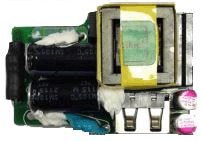 The FEBFAN6230AMPX-CH04U12A-GEVB is a controller that improves efficiency in secondary-side Synchronous Rectifier (SR) MOSFETs. An internal shunt regulator with low bias current and an internal charge pump circuit reduce external part counts, total cost, and system power consumption. Adoption of the internal charge pump circuit allows the FAN6230A to work very well under low bias voltage conditions with good Constant Current (CC) regulation without a rectifier diode.

FEBFAN6230AMPX-CH04U12A-GEVB also features adjustable cable compensation for precise constant voltage regulations at the cable end.

Unlike the traditional method of measuring the SR MOSFET drain-to-source voltage to sense the current, which is sensitive to the noise introduced by poor PCB layout, the FEBFAN6230AMPX-CH04U12A-GEVB uses innovative Linear-Prediction Timing Control (LPC) to estimate the SR MOSFET turn-on time without additional current-sensing circuitry.

In Green Mode, the FEBFAN6230AMPX-CH04U12A-GEVB shuts off the SR MOSFETs, which lowers bias current down to 500 µA, so the total power consumption of the system is further reduced.
Features and Applications
Features

16-Pin MLP33 Package
Ultra-Low Green-Mode Operating Current (0.5 mA, Typical)
Ultra Low VDD Operating Voltage for 5 V Output Applications
PWM Frequency Tracking Using Secondary-Side Winding Voltage
Output Cable Compensation Circuit
Green-Mode Improves Light-Load Efficiency and No-Load Power Consumption
Integrated Charge Pump Circuit for CC Region
Smooth Operation in DCM and CCM
Secondary-Side SR Controller for Flyback Converters
Integrated Shunt Regulator
Advanced Protections
RES Dropping Protection (Disable Gate Drive)
Over-Temperature Protection (Auto-Restart)
Evaluation/Development Tool Information
Your request has been submitted for approval.
Please allow 2-5 business days for a response.
You will receive an email when your request is approved.
Request for this document already exists and is waiting for approval.