FEBFAN6100QMPX-CH07U15A-GEVB: EVB FAN6100Q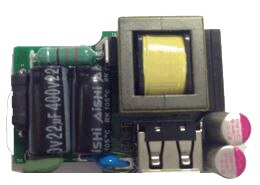 The FEBFAN6100QMPX-CH07U15A-GEVB Evaluation Board is a highly integrated secondary side power adaptor controller that is compatible with Qualcomm Quick Charger 2.0. It is designed for use in application that requires constant voltage (CV) and constant current (CC) regulation.

The controller consists of two operational amplifiers for voltage and current loop regulation with adjustable voltage references. The CC control loop also incorporates a current sense amplifier with gain of 10. Outputs of the CV and CC amplifiers are tied together in open drain configuration.

When used in conjunction with primary side PWM controller FAN501A, battery chargers can be implemented to support adaptive output current and output voltage in the range of 5 V/9 V/12 V.

The FAN6100Q enables power adaptor's output voltage adjustment if it detects an adaptive capable powered device. If a non compliant powered device is detected, the controller disables adaptive output voltage to ensure safe operation with smart phone and tablets that support only 5 V.
Evaluation/Development Tool Information
Your request has been submitted for approval.
Please allow 2-5 business days for a response.
You will receive an email when your request is approved.
Request for this document already exists and is waiting for approval.