FEBFAN48610-M00LPOLA-GEVB: Synchronous Boost Regulator with Pass-Through Mode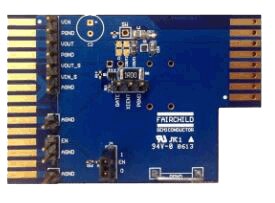 The FEBFAN48610-M00LPOLA-GEVB evaluation board is a compact circuit including Fairchild's FAN48610 synchronous boost regulator with Pass-Through Mode in a 9-bump Wafer-Level Chip-Scale Package (WLCSP). Small input/output capacitors and a 470 nH inductor ensure smooth output regulation.

The board also features an on-board active load circuit and footprints to accommodate additional input/output capacitors. The evaluation board provides probe access points to all key circuit nodes so that electrical characteristics can be measured.
Features and Applications
Features

9-Bump, 1.215 mm x 1.215 mm, 0.4 mm Pitch WLCSP
Short-Circuit Protection
Soft-Start with True Load Disconnect
Internal Synchronous Rectification
Up to 94% Efficient
Automatic Pass-Through Operation when VIN > VOUT
IOUT ≥ 1.5 A at VOUT =5.0 V, VIN ≥ 3.0 V
IOUT ≥ 1 A at VOUT =5.0 V, VIN ≥ 2.5 V
Input Voltage Range: 2.35 V to 5.50 V
Output Voltages Range: 3.0 V to 5.0 V
Three External Components: 2016 0.47 H Inductor, 0603 Case Size Input / Output Capacitors
Evaluation/Development Tool Information
Your request has been submitted for approval.
Please allow 2-5 business days for a response.
You will receive an email when your request is approved.
Request for this document already exists and is waiting for approval.