F143-MINI-A-MOD-GEVB: AX8052F143 Mini DVK Mod Evaluation Board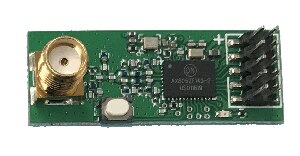 The F143-Mini-A-MOD module is equipped with an SMA connector that may be used either to connect a 50 Ohm whip antenna or measurement equipment. This module does not allow for batteries to be connected but can be powered via the debug adapter. This board is optimized for operation at 868MHz, however it can be re-programmed for operation in the 915MHz band by using our RadioLab software. RF performance will be reduced but the board is still useful for evaluation and software development. An optimized 915Mhz version is planned.

The F143-MINI-2-GEVK (AX8052F143 Mini Development Kit) can be found here: F143-MINI-2-GEVK

Note: If purchasing this board without the F143-MINI-2-GEVK kit, the AXDBG Debug Adapter much also be purchased for programming.

See below for links to the F143 Mini Kit Quick-start guide and for PCB design files. For additional documentation and software resources for developing radio applications see:

The AX8052F100 product page for microcontroller specific resources such as the AX8052 datasheet and programming manual
The product page for AX5043 for radio specific resources such as datasheets and radio programming manuals.
The AX8052F143 page, which has many resources combined with the AX8052F143 datasheet
Standard two layer PCB, FR4, 1mm core, 35um (1 oz) copper. No impedance control, controlled di-electric instead.
Evaluation/Development Tool Information
Your request has been submitted for approval.
Please allow 2-5 business days for a response.
You will receive an email when your request is approved.
Request for this document already exists and is waiting for approval.