E7160SL-001GEVB: Ezairo ® 7160 SL Hybrid Demonstrator Board - Socketed version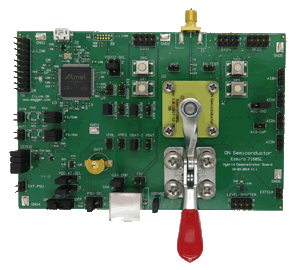 The Ezairo 7160 SL Hybrid Demonstrator Board is designed to easily develop high-performance hearing aids based on the Ezairo 7160 SL hybrid. The board features many configuration options available via standard 0.1" header pins, and an on-board J-Link debugger based on the Atmel ATSAM3U2CA-AU microcontroller. Using a USB cable, the on-board debugger is used to interface the RSL10 radio within the Ezairo 7160 SL hybrid with a PC for debugging, data collection, or monitoring purposes.

This version of the board contains an elastomer socket and is recommended for general use, including development, testing and debug purposes since it enables the Ezairo 7160 SL module inserted in the socket to be easily swapped out.
Features and Applications
Features

On-board J-Link adaptor for debugging through a USB connection to the PC
Alternate on-board SWJ-DP (serial-wire and/or JTAG) interface for debugging the Arm ® Cortex-M3 processor
Access to all Ezairo 7160 SL peripherals via standard 0.1" headers
Onboard 4−bit level translator to translate the DIOs and debug interface at low voltage to a 3.3 V JTAG debugger
4 Push Button Switches
On board 3.3 V Regulator
3 LEDs
Test points and GND hooks for easy probing
Battery Holder
Current measuring header
Elastomer socket with hybrid
Antenna matching and filtering network
Evaluation/Development Tool Information
Your request has been submitted for approval.
Please allow 2-5 business days for a response.
You will receive an email when your request is approved.
Request for this document already exists and is waiting for approval.