DVK-SFUS-1-GEVK: Sigfox™ AT Development Kit for RCZ2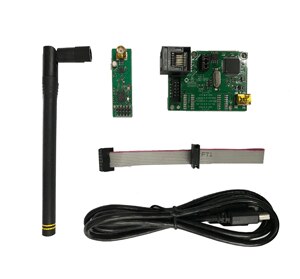 The miniature (13mm x 44mm) Sigfox development kit (DVK), DVK-SFUS-1-GEVK, allows designers to quickly develop Sigfox connected applications in the RCZ2 region using the AX-SFUS solution.

The DVK comes with a free two-year Sigfox subscription and is pre-programmed with the Sigfox stack and a comprehensive but easy to use serial protocol based on AT commands.

An external application processor is needed to use this solution. Designers who want to develop a self-contained Sigfox application should use the AX-SFUS-API solution.

The DVK is also a reference design. The designer can copy and paste the reference design to their application board and reuse the DVK Sigfox ready ™ certification (P1). The reference design has also been checked for regulatory compliance, minimizing risk for the customer's product level compliance.

The DVK has an SMA connector to allow for both conducted measurements as well as radiated measurements using the included whip antenna.

The DVK can be operated one of two ways:

1) Connected by ribbon cable to the included AXDBG-2-GEVK virtual COM port which allows a terminal emulator on a PC to communicate and operate the DVK interactively. Power supply current can be measured through a header on the AXDBG-2-GEVK board.

2) Or alternatively the designer can connect power, ground, and a UART to their application processor and use the DVK as a modem for their application. Please note that the UART operates at the voltage supplied to the kit and can be any voltage in the range of 2V to 3.3V.
Evaluation/Development Tool Information
Your request has been submitted for approval.
Please allow 2-5 business days for a response.
You will receive an email when your request is approved.
Request for this document already exists and is waiting for approval.