DVK-AXM0F243-915-1-SMA-GEVB: AXM0F243 915 MHz Evaluation Board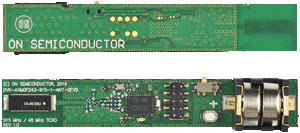 The AXM0F243 RF System on Chip (SoC), combines a high performance ultra-low power ARM Cortex M0+ microcontroller (MCU) with the popular ultra-low power AX5043 narrow band RF transceiver in a single package.

This evaluation board, DVK-AXM0F243-915-1-SMA-GEVB, is the SMA version of the 915 MHz optimized reference design that is included in the complete DVK-AXM0F243-915-1-GEVK development kit. It is sold stand-alone so customers can order additional SMA boards without reordering the entire development kit.

For customers that need the entire development kit, please visit the development kit page for DVK-AXM0F243-915-1-GEVK.

This miniature (13mm x 35mm) evaluation board is a reference design for AXM0F243, optimized for operation in the 915 MHz ISM band. Customers can simply copy and paste this reference design, as-is, to their application board. All necessary design files are available for download below.

Using this pre-optimized reference design drastically reduces the customer's design span and minimizes regulatory compliance and RF performance risks.

To review ON Semiconductor's pre-compliance regulatory testing results please refer to the reference design document below.

In addition to the included antenna, various 50 Ohms antennas with male SMA connector can be used for evaluation. The SMA port can also be used to connect the board to RF measurement equipment for conducted mode characterization.

This board can also be used for software development on the AXM0F243 MCU. The AXDBG debug adapter is required for FLASH programming and debugging. The AXDBG debugger is included in the complete development kit DVK-AXM0F243-915-1-GEVK, or stand-alone as AXDBG.

A battery powered version of this reference design is also available stand-alone, DVK-AXM0F243-915-1-ANT-GEVB. The battery powered version uses a chip antenna instead of SMA connector at the antenna interface.
Evaluation/Development Tool Information
Your request has been submitted for approval.
Please allow 2-5 business days for a response.
You will receive an email when your request is approved.
Request for this document already exists and is waiting for approval.