DVK-AXM0F243-915-1-GEVK: AXM0F243 Mini Development Kit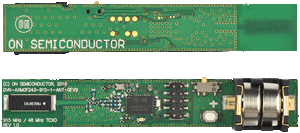 The AXM0F243 RF System on Chip (SoC), combines a high performance ultra-low power ARM Cortex M0+ microcontroller (MCU) with the popular ultra-low power AX5043 narrow band RF transceiver in a single package.

The DVK-AXM0F243-915-1-GEVK kit is a miniaturized development kit for the AXM0F243 wireless MCU.

The development kit includes a USB debug adapter, a pair of mini RF modules, a USB cable, a ribbon cable, and a whip antenna.

The included mini boards are shipped pre-programmed with a wireless demo application. The demo application is a master/slave Tx/Rx demo that can be used to evaluate wireless range in a point to point RF connection. The slave, or Rx board, can be connected to a UART on a PC for packet error rate and RSSI information.

Combining the hardware in the kit with the development tools linked below, wireless application demos can be up and running in minutes or less. Radio test modes can also be easily enabled for rapid radio evaluation.

The mini modules have two configurations: one module comes with a chip antenna and is battery powered (DVK-AXM0F243-915-1-ANT-GEVB) and the other is equipped with an SMA connector (DVK-AXM0F243-915-1-SMA-GEVB) and is meant to connect to a PC through the USB debug adapter (AXDBG).

The boards in this kit are optimized for operation at 915 MHz ISM band operation.
Evaluation/Development Tool Information
Technical Documents
| | | | |
| --- | --- | --- | --- |
| Type | Document Title | Document ID/Size | Rev |
| Application Notes | AX Development Systems - Troubleshooting Guide | AND9621/D - 530 KB | 2 |
| Eval Board: Manual | DVK-AXM0F243-xxx-x-GVK Evaluation Kit User's Manual | EVBUM2595/D - 1051 KB | 1 |
Your request has been submitted for approval.
Please allow 2-5 business days for a response.
You will receive an email when your request is approved.
Request for this document already exists and is waiting for approval.