CAT3649AGEVB: High Efficiency Quad-Mode Fractional Charge Pump Evaluation Board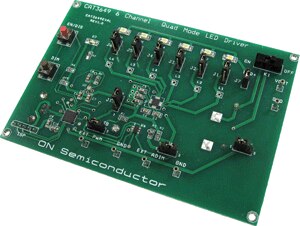 The CAT3649 is a high efficiency Quad-Mode fractional charge pump that can drive up to six LEDs. The inclusion of a 1.33x fractional charge pump mode increases the device efficiency by up to 10% over traditional 1.5x charge pumps with no added external capacitors.
Low noise input ripple is achieved by operating at a constant switching frequency which allows the use of small external ceramic capacitors. The multi-fractional charge pump supports a wide range of input voltages from 2.4 V to 5.5 V.
The LED current can be adjusted in different ways. The full-scale LED current is set to 25 mA once the device is enabled. Analog dimming in 32 linear steps is achieved via a 1-wire pulse-dimming input (ADIM). Further adjustment of the LED current can be done by applying a pulse width modulation (PWM) signal on the PWM input. The PWM dimming control is compatible with content adaptive brightness control (CABC) for a wide range of PWM signal frequency up to 200 kHz.
Evaluation/Development Tool Information
| Product | Status | Compliance | Short Description | Parts Used | Action |
| --- | --- | --- | --- | --- | --- |
| CAT3649AGEVB | Active | | High Efficiency Quad-Mode Fractional Charge Pump Evaluation Board | CAT3649HV3-GT2 | |
Your request has been submitted for approval.
Please allow 2-5 business days for a response.
You will receive an email when your request is approved.
Request for this document already exists and is waiting for approval.