ARRAYJ-BOB3-16P-GEVK: J-Array 3mm 4x4 BOB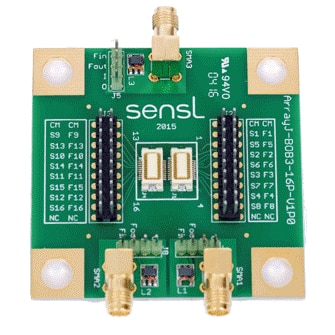 The ArrayJ-BOB3-16P is an evaluation board allowing easy access to the signals from a SensL ArrayJ-300XX-16P, 3 mm 4 x 4 SiPM array.
The Breakout Board has two HIROSE 20-way connectors DF17(3.0)-20DS-0.5v(57). These connectors mate with the Samtec DF17(2.0)-20DP-0.5v(57) board-to-board connectors on the array. All signals on the array are routed via the mating connectors to header pins. These pins are formed by two 20-way (10 x 2 row) 2.54 mm pitch headers.
Three SMA connectors and Balun transformers are provided with 4-pin headers to allow any signal to be connected directly to the SMA or via the transformer using jumper wires. Four 7 mm holes are aligned on a 25 mm grid to allow mounting of the board on an optical breadboard.

Evaluation/Development Tool Information
Your request has been submitted for approval.
Please allow 2-5 business days for a response.
You will receive an email when your request is approved.
Request for this document already exists and is waiting for approval.