ADT7481EBZEVB: 3-Channel Digital Thermometer and Under/Over Temperature Alarm Evaluation Board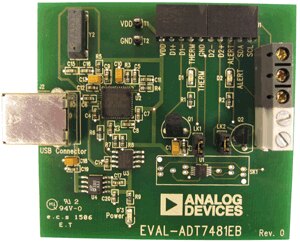 The ADT7481 is a 3-channel digital thermometer and under/over temperature alarm, intended for use in PCs and thermal management systems. It can measure its own ambient temperature or the temperature of two remote thermal diodes. These thermal diodes can be located in a CPU or GPU, or they can be discrete diode connected transistors. The ambient temperature, or the temperature of the remote thermal diode, can be accurately measured to ±1°C. The temperature measurement range defaults to 0°C to +127°C, compatible with ADM1032, but can be switched to a wider measurement range from -64°C to +191°C.
Evaluation/Development Tool Information
Your request has been submitted for approval.
Please allow 2-5 business days for a response.
You will receive an email when your request is approved.
Request for this document already exists and is waiting for approval.