SiPM dToF LiDAR Platform Development Kit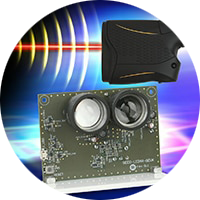 Within the Internet of Things (IoT), there are an increasing number of ranging and sensing applications looking to benefit from low-power, high performance SiPM technology. In particular, LiDAR (light detection and ranging) applications that use eye-safe near infrared (NIR) wavelengths such 3D depth maps, mobile, consumer and industrial ranging.
The SiPM Direct Time of Flight (dToF) LiDAR Platform is a complete development kit for single point range-finding applications. The FDA-certified kit is based on the RB-series NIR-enhanced SiPM, and integrates all essential system components including laser and reference circuit (Tx), receiving circuit (Rx), power management systems, and core FPGA and UART communication.
Taking advantage of the SiPM sensor's high gain and high bandwidth, direct time-of-flight (dToF) can be used to provide accurate ranging up to 23 meters without compromising battery life.
Featured Resources
SiPM dToF LiDAR Platform GUI Walkthrough
Range finding using Direct Time of Flight (dToF) LiDAR delivers on a critical need for a number of industrial applications requiring millimetre range accuracy including robotics, mapping and autonomous navigation.
What is Industrial Rangefinding?
The Silicon Photomultiplier (SiPM) Direct Time of Flight (dToF) LiDAR Platform is a single-point range finder development kit for cost-optimized industrial and commercial applications.
SiPMs in Direct ToF Ranging Applications
This white paper is intended to assist in the development of SiPM (Silicon Photomultiplier) based LiDAR (Light Detection and Ranging) systems...
Introduction to the Silicon Photomultiplier
This document provides an introduction to SiPM sensors, explaining the working principle and primary performance parameters...
Platform Overview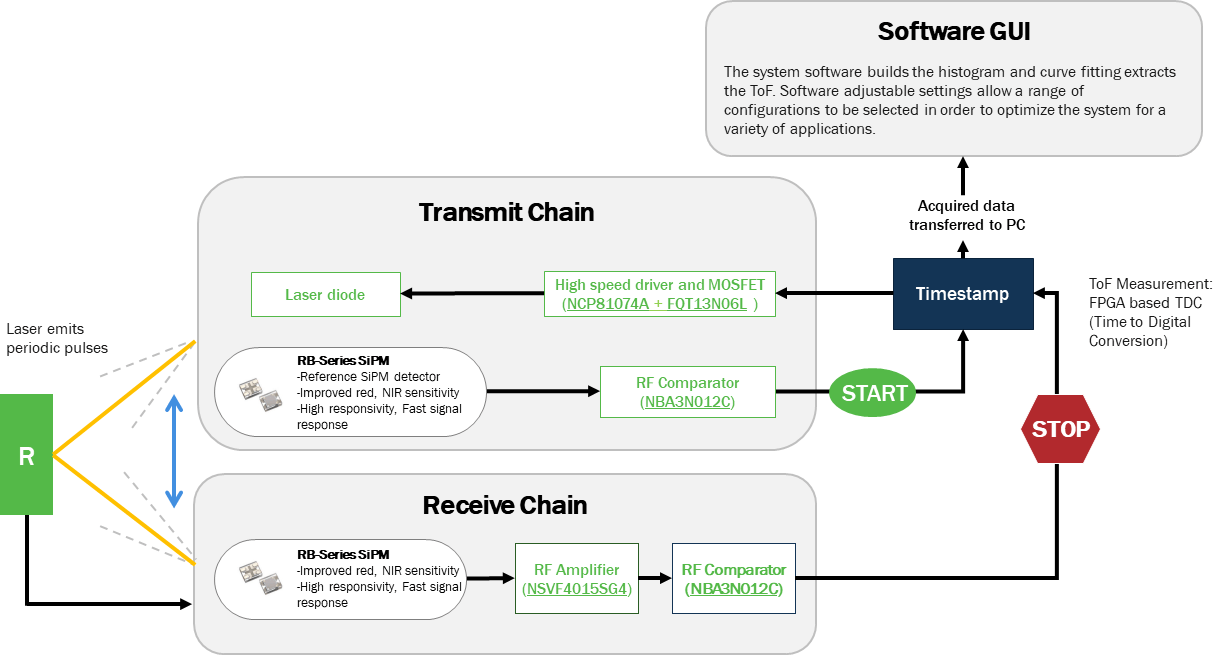 Direct ToF operation for a single point

>0.11 m to 23 m distance
905nm laser diode
650-1050nm BK7 plano-convex lenses to maximize distance measurement
905nm optical band-pass filter to maximize sensitivity in the optical band
Single supply low power operation
Out-of-the box operation with dedicated GUI

Class 1 Laser Safety Certification
All hardware design files (BoM, Schematic, Gerber) provided
What is a Direct Time of Flight (dToF) Ranging System?
In direct ToF ranging systems, a periodic laser pulse is directed at the target, typically with eye-safe power and wavelength in the infrared region. The target diffuses and reflects the laser photons and some of the photons are reflected off of the target object in all directions back towards the sensor. The returned photons are detected by the receiving sensor, and converted to electrical signals that are then timestamped.

Indoor navigation and range-finding (up to 23 m)
Collision Detection
3D mapping