Bluetooth IoT Development Kit (B-IDK)
Easily Develop Low Power Wireless Applications
With optimized power consumption and easy connectivity to smartphones, Bluetooth® Low Energy is the preferred protocol for short-range connected devices including wearables, medical devices, asset trackers, beacons and various smart home devices.
Built on the industry's lowest power Bluetooth 5 certified SoC, RSL10, the B-IDK is a configurable node-to-cloud development platform for Bluetooth Low Energy applications. The B-IDK features modular hardware comprised of a wide selection of sensors and actuators. The development software includes a CMSIS pack that contains sample code for several use cases and detailed documentation. In addition to controlling the hardware, the accompanying mobile app allows publishing and subscribing (MQTT) of sensor and actuator data from several popular cloud services.
---
From Battery Free Sensors to Vision: Making IoT Real - Embedded World 2019
Bluetooth® Low Energy IoT Development Kit (B-IDK) Getting Started Guide
---
Key Features
Features Industry's Lowest Power Bluetooth 5 radio

62.5 nW Deep Sleep
7 mW Peak Receiving

Configurable mobile application supporting cloud connectivity

Compatible with AWS, Azure, Bluemix or custom cloud services

Ready-to-Use Sample Code
Easily Connect to Other IoT Development Kit Shield Boards

Complete range of options for sensing (proximity, motion, touch), and control (dual LED, stepper motor, brushless DC)
B-IDK Software
The Bluetooth IoT Development Kit CMSIS-Pack includes a variety of project examples to quickly develop Bluetooth Low Energy use-cases including asset monitoring and wireless sensor networks.
The CMSIS-Pack also includes documentation and Veridify Security's Public Key Tools* to implement device-to-device authentication.
*Note: An RSL10 Sensor Development Kit is required for evaluation.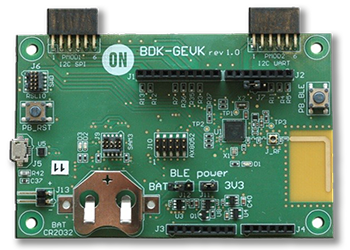 ---
Applications