Selected Sensing Solution
Return to Sensing solution
Image Sensing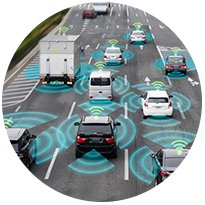 From automation to robots, security to Intelligent Traffic Systems (ITS), machine vision to medical applications, drones to driver assist systems, image sensing enable a massive growth in Vision IoT in both industrial and consumer sectors. In addition to RGB images and video, the right choice of image sensor enables accurate inspection, depth sensing, object recognition, and tracking. Adding image sensors to existing devices significantly augments the basic functionality to provide value to customers and help differentiate products. ON Semiconductor leverages the most advanced imaging technologies to provide the broadest, most capable portfolio of image sensors for Industrial IoT. We offer a wide choice of resolutions, optical formats, and technologies (CCD, CMOS, HDR, Global Shutter, ERS, LED flicker mitigation, etc.) to address the varying needs of IoT applications across many verticals.
Interactive Block Diagrams
ON Semiconductor offers a complete solution for IoT edge devices with a wide selection of high efficiency power management devices, and our leading edge low power wireless solutions.