Selected Industrial Automation Solution
Return to Industrial Automation solution
Industrial LiDAR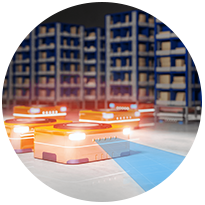 LiDAR sensing is a trending solution for Industrial Automation and Control Systems because it is cost-effective, highly accurate, fast, and scalable. LiDAR sensing using SiPM (Silicon Photomultiplier) arrays also enables object detection and avoidance as well as movement and occupancy detection.
ON Semiconductor SiPM arrays feature an innovative fast mode that decreases sensing time. Our SiPM technology has industry-leading efficiency and dynamic range, enabling the sensors to work in a wide variety of environments, including direct sunlight.
ON Semiconductor offers LiDAR solutions alongside a wide range of LiDAR development platforms and tools supported by highly technical and experienced applications engineers to assist product development.