Industrial Automation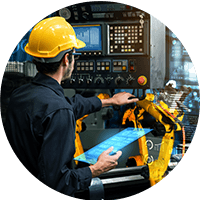 Industrial automation focuses on the accelerated expansion of factory and plant monitoring and control systems. Automation improves workers' safety and reduces fatigue as well as increases productivity. Furthermore, it shortens manufacturing cycle times and lowers production costs while minimizing equipment downtime.
In addition to the momentum already pushing Industry 4.0 adoption, the COVID-19 crisis has dramatically accelerated the rate of adoption as it became not only a process improvement but, in many cases, the only solution due to mandated closures and social distancing requirements. Manufacturing lines cannot be left idle. Not only is it obviously bad for business, but it also creates significant inventory gaps with a ripple effect on supply chains and, in the worst-case, the global economy.
Several critical Industrial Automation technologies have emerged as essential technologies enabling Industry 4.0, including Machine Vision and LiDAR sensing. ON Semiconductor has compelling solutions in Machine Vision and LiDAR sensing that enable edge and cloud AI-based processing and sensing.
Solutions
Download Strata Software
The Strata Developer Studio is a cloud-connected development platform that provides a seamless, personalized and secure environment for engineers to evaluate and design with ON Semiconductor technologies.