Selected Connectivity Solution
Return to Connectivity solution
ZIGBEE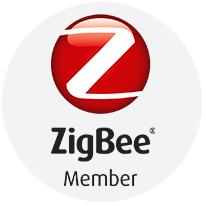 Zigbee is a popular low power, low data rate mesh networking protocol for home and building automation, industrial control, security, smart metering, etc. Zigbee is built on top of the IEEE 802.15.4 standard that defines the PHY and MAC layers. ON Semiconductor has the lowest power 802.15.4 radio in the market, with full hardware and software support for over-the-air firmware updates. Suitable as an end node and a routing device when running Zigbee, the NCS36510 provides a powerful and compelling solution for 802.15.4 applications. ON Semiconductor offers a fully Zigbee compliant platform with our NCS36510 device and the popular ZBOSS stack from DSR. The DSR stack is interoperable with several important Zigbee devices on the market, improving robustness and interoperability of the NCS36510 solution.
Products
The NCS36510 is a low power, fully integrated, System on Chip that integrates a 2.4 GHz IEEE 802.15.4 compliant transceiver, ARM Cortex−M3 microprocessor, RAM and FLASH memory, a true random number generator, and multiple peripherals to support design of a complete and secure wireless network with minimal external components.

Certified RF PCB module for the NCS36510 device, capable of running proprietary applications on the IEEE 802.15.4 PHY/MAC, or other compatible protocols such as ZigBee.

Evaluation Boards
The NCS36510GEVK functions as a development and evaluation platform for the NCS36510. This Evaluation Kit comes pre-programmed with a demo application that allows customers easy access to the transceiver radio (805.15.4 PHY), ADC, and FLASH programming through a custom Graphical User Interface (GUI).

Media Resources
Strata Enabled Zigbee Green Power Kit
This video demonstrates the STR-NCS36510-ZB-EH-1-GEVK Strata-Enabled Zigbee® Green Power Kit from ON Semiconductor in a battery-free Zigbee® Gree...