Selected Connectivity Solution
Return to Connectivity solution
Wi-Fi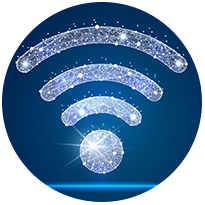 Wi-Fi is the pre-eminent wireless LAN networking technology based on the IEEE 802.11 standard that allows devices to connect to the internet. Wi-Fi uses the unlicensed 2.4GHz, 5GHz, and newly ratified 6GHz bands and is optimal for high speed, medium range applications. ON Semiconductor offers a broad portfolio of Wi-Fi solutions, including the QCS-AX and QCS-AX2 chipsets that support latest Wi-Fi 6 and 6E standards. Featuring a flexible architecture, fully offloaded 10 Gbps speeds and AdaptivMIMO technology, our solutions enable the highest level of performance in the industry and are ideal for applications in residential, enterprise, industrial, and fixed wireless access where speed, coverage, and low latency are critical.
Products
The QCS-AX2 is a family of highly integrated Wi-Fi 6 baseband chips that support up to 12 spatial streams in a single chip.

The QCS-AX family is a Wi-Fi 6 based dual-band dual-concurrent chipset solution.

The QSR10G family of Wi-Fi 5 chipsets is the industry's first 10Gbps solution for access points and repeaters. The QSR10G offers unparalleled speed, capacity, range and reliability for wireless connectivity.

The QSR2000C is a Wi-Fi 5 dual-band selectable family of chipsets, leveraging the success of the award-winning QSR1000 with its superior 4-stream technology in both the 2.4GHz and 5GHz bands.

The QSR1000 is the pioneering 4x4 MIMO Wi-Fi 5 chipset solution that conquers the Gigabit per second throughput over Wi-Fi barrier, thus providing higher data capacity to more devices around the home.

Featured Videos
Keeping up with the Joneses Wi-Fi
Join us for this webinar as we review best practices for Wi-Fi in helping mitigate such impairments and enhance performance.
Wi-Fi 6E Updates
In this video, Irvind Ghai discusses the benefits of 6 GHz, the tradeoffs of 6 GHz radiofrequency (RF) signal propagation and their mitigation, the ON Semiconductor QCS 6 GHz Product Family.
Wi-Fi NOW TV: Interview with Telefonica
What's Telefonica's approach and strategy in introducing Wi-Fi 6 to the mass market? Find out here as Claus Hetting from Wi-Fi Now interviews Telefonica's