Selected Lighting Solution
Return to Lighting solution
Interior Lighting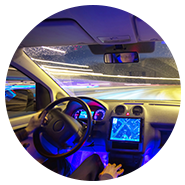 LED interior lighting continues to grow in popularity, not only as incandescent bulb replacement, but for maker and accent applications. ON Semiconductor offers a variety of discrete and monolithic solutions for a full range of applications. These include simple solutions such as our two terminal constant current regulators (CCRs), which are economical, robust devices that provide an effective solution for regulating current in cost sensitive automotive LED applications. More complex solutions include LIN RGB LED drivers, that combine a LIN transceiver with a RGB LED driver and memory, providing a single-chip RGB driver intended to monitor dedicated multicolor LED applications.
Interactive Block Diagrams
Products
The NCV7430 is a single-chip RGB driver intended for dedicated multicolor LED applications. The RGB LED driver contains a LIN interface (slave) for parametric programming of LED color and intensity.


Evaluation Boards
The NCV7685 LED RGB EVB provides a smart demonstration on interior or exterior lighting reference design for tail or ambient lights, which is aiming at realizing general sequential or high end pixelated LEDs controlling in in-vehicle network…

ntroduction The ON Semiconductor Constant Current Regulator (CCR) family of devices offer outstanding regulation for LEDs and other current based loads, such as battery charging circuits.

LEDs are being proliferated into many automotive lighting applications. The Center High Mount Stop Lamp (CHMSL) is one of several automotive applications for LEDs. Interior lighting is another area where LEDs are very well suited due to their small size and high efficiency. Recent advancements in higher efficiency LEDs at lower costs have made these light sources the technology of choice for automotive lighting.

The NCV7430 is an automotive RGB LED driver with a LIN protocol communication interface. It is a fully integrated device capable of controlling current through 3 LEDs to provide a full spectrum of colors (as shown in the CIE xy chromaticity diagram below) and intensities for use in ambient lighting for the interior of an automobile.

Introduction Color perception in human subjects varies with the color spectrum in three semi-discrete spectrums of Red, Green, and Blue (RGB). Combinations of these three colors make up the entire color spectrum interpreted by anyone. The NCV7430 device drives three LED sources at different intensities creating an infinite color spectrum.