Selected Lighting Solution
Return to Lighting solution
Exterior Lighting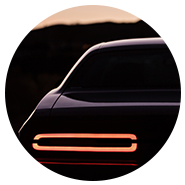 Styling and safety are enhanced with the addition LED exterior lighting systems. ON Semiconductor provides a variety of discrete, linear programmable constant current devices designed for regulation and control of LED based lighting systems. These linear current regulator/controllers are able to drive rear combination lamps, day time running lights, and turn signals. They allow for two programmed levels for Stop and Tail illumination, and also slew rate control to eliminate EMI concerns.
Interactive Block Diagrams
Evaluation Boards
The NCV7685 LED RGB EVB provides a smart demonstration on interior or exterior lighting reference design for tail or ambient lights, which is aiming at realizing general sequential or high end pixelated LEDs controlling in in-vehicle network…

Automotive turn signals are sometimes designed to display an indicator in a fashion such that lights are activated in a sequencing manner to show directional intent.

The NCV7691RCLV1GEVB Evaluation Board demonstrates a rear combination / daylight running light (RCL/DRL) solution with up to eight LED string. 

Automotive Rear Combination LED Lighting systems often require the electronics to execute a sequence lighting event for a blinker function to indicate directional change in movement.

The evaluation board demonstrates the Rear Combination Lamp Application with the NCV7685 LED linear current driver. On-board buck converter creates constant voltage of 7.0 V on the top of the LEDs to have lower power dissipation on the device itself.