Selected Lighting Solution
Return to Lighting solution
Advanced Front Lighting Systems (AFLS)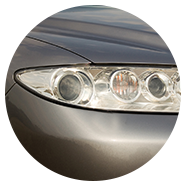 Today's advanced front lighting systems (AFLS) utilize a combination of sensors, motors, and an LED matrix to adjust the direction and intensity of the light beam. As a leader in automotive LED lighting solutions, ON Semiconductor offers a wide portfolio of products and solutions that enable the growing automotive advanced front lighting market. These solutions include power management (DC-DC current source), pixel controllers, and stepper motor drivers for tilt and swivel. Our products support modular designs, allowing for a different number of LED strings; as well as flexible design options, supporting multiple car platforms with the same electronics.
Products
The NCV78763 is a single−chip, highly efficient smart power ballast and dual LED driver designed for automotive front lighting applications like high beam, low beam, daytime running light (DRL), turn indicator, fog light, static cornering and so on. 

The NCV70628 is a single-chip microstepping motor driver with position controller and control/diagnostic interface. It is ready to build dedicated mechatronics solutions connected remotely with a LIN master.

The NCV70514 is a micro−stepping stepper motor driver for bipolar stepper motors. The chip is connected through I/O pins and an SPI interface with an external microcontroller. 

Evaluation Boards
The NCV78763 REF Design LDM A KIT v1.1 is meant for Automotive LED Front Lighting Advanced Applications for Day Time Running Light (DRL), Position Light (PL) and Turn Indicator (TURN), aimed for car bulb equivalent system replacement and migration to Power LEDS.

The NV705143R1DBGEVB is a form factor Reference Design for driving bipolar stepper motors. The reference design can be interfaced via I/O pins and the SPI bus to an external microcontroller.