Selected Automotive Power Management Solution
Return to Automotive Power Management solution
Switched-Mode Power Supplies (SMPS)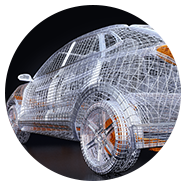 Switched mode power supplies, or SMPS, use solid-state switches to convert an unregulated DC input voltage, to a regulated and smooth DC output voltage, at different voltage levels. The input supply can be a true DC voltage from a battery or solar panel, or a rectified DC voltage from an AC supply using a diode bridge along with some additional capacitive filtering. Considering the multiple DC voltage levels required in today's light vehicles, designers need a way to convert standard power-source potentials into the voltages dictated by the load (bulbs, LEDs, motors, etc.). Switched-mode power supplies provide the various levels of DC output power needed in today's cars, trucks, and SUVs. In addition to flexibility, SMPS are highly efficient and reliable. ON Semiconductor offers a wide variety of SMPS devices, in a variety of packages.
Technical Documents
This presentation presents the effects of switching frequency on buck switching regulator operating characteristics, and how switching frequency affects the cost of the supply.

At the heart of automotive design is the requirement to pass Electro-Magnetic Compatibility (EMC) limits, by minimising conducted and radiated emissions and susceptibility. The use of Switched Mode Power Supplies (SMPS) is now common-place, yet a prime source of electro-magnetic emissions.