Selected ADAS, Viewing & Autonomous Vehicles Solution
Return to ADAS, Viewing & Autonomous Vehicles solution
Safety & Security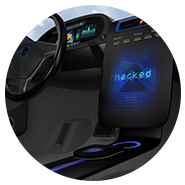 ADAS system requires that the system prevent or mitigate any action or behavior that could cause harm. The assessment of the probability of harm and the severity of that harm caused by a failure in the system allows system designer to classify levels of risk the system and to take appropriate measures to minimize the risk.
Interactive Block Diagrams
Technical Documents
Almost all Advanced Driver Assistance Systems (ADAS) both today and in the foreseeable future are built primarily on machine vision to drive the decision process.