Selected ADAS, Viewing & Autonomous Vehicles Solution
Return to ADAS, Viewing & Autonomous Vehicles solution
Forward Sensing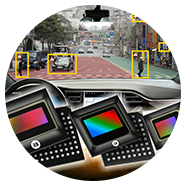 Level 2 & 3 advanced driving requires forward looking safety systems that provide features such as automated cruise control (ACC), automated emergency braking (AEB), lane keep assist (LKA), and blind spot detection (BSD). These systems require advanced features beyond conventional viewing applications, such as wide field of view (FOV) in low light conditions, high dynamic range (HDR), LED flicker mitigation (LFM), ASIL Functional Safety (ISO-26262) and AEC-Q100 Grade 2 compliance. Moving forward, advanced Level 3 & 4 systems will require even higher resolution, better performance in low light, and cybersecurity features to prevent hacking.
Interactive Block Diagrams
Technical Documents
Almost all Advanced Driver Assistance Systems (ADAS) both today and in the foreseeable future are built primarily on machine vision to drive the decision process.