NBC12429: PLL Synthesized Clock Generator, Programmable, 3.3 V / 5.0 V (25 to 400 MHz)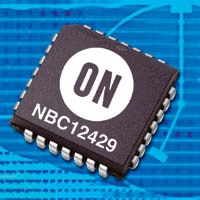 The NBC12429 and NBC12429A are general purpose, PLL based synthesized clock sources. The VCO will operate over a frequency range of 200 MHz to 400 MHz. The VCO frequency is sent to the N-output divider, where it can be configured to provide division ratios of 1, 2, 4, or 8. The VCO and output frequency can be programmed using the parallel or serial interfaces to the configuration logic. Output frequency steps of 1.0 MHz can be achieved using a 16 MHz crystal, depending on the output dividers. The PLL loop filter is fully integrated and does not require any external components. The NBC12429 is specified to operate across the commercial temperature range. The NBC12429A is specified to operate across the industrial temperature range.
Features

Best-in-Class Output Jitter Performance, ±20 ps Peak-to-Peak

25 MHz to 400 MHz Programmable Differential PECL Outputs

Fully Integrated Phase-Locked Loop with Internal Loop Filter

Parallel Interface for Programming Counter and Output Dividers During Power-Up

Minimal Frequency Overshoot

Serial 3-Wire Programming Interface

Parallel Interface for Power-Up

Crystal Oscillator Interface

Operating Range: VCC = 3.0 V to 5.5 V

CMOS and TTL Compatible Inputs

Drop-in Replacement for Motorola MC12429

Pb-Free Packages are Available
Applications
Clock generation and synthesis for computing and servers.
Technical Documentation & Design Resources
Evaluation/Development Tool Information
| Product | Status | Compliance | Short Description | Action |
| --- | --- | --- | --- | --- |
| NBC124XXEVB | Active | | PLL Synthesized Clock Generator Evaluation Board | |
| | | |
| --- | --- | --- |
| Market Leadtime (weeks) | : | 4 to 8 |
| PandS (2020-09-14 00:00) | : | In Stock |
| | | |
| --- | --- | --- |
| Market Leadtime (weeks) | : | 2 to 4 |
| ON Semiconductor (2020-09-02 00:00) | : | 3,500 |
| | | |
| --- | --- | --- |
| Market Leadtime (weeks) | : | Contact Factory |
| | | |
| --- | --- | --- |
| Market Leadtime (weeks) | : | Contact Factory |
| | | |
| --- | --- | --- |
| Market Leadtime (weeks) | : | Contact Factory |
| PandS (2020-09-14 00:00) | : | >1K |
| | | |
| --- | --- | --- |
| Market Leadtime (weeks) | : | Contact Factory |
| ON Semiconductor (2020-09-02 00:00) | : | 1,924 |
| | | |
| --- | --- | --- |
| Market Leadtime (weeks) | : | 2 to 4 |
| ON Semiconductor (2020-09-02 00:00) | : | 2,500 |
Product
Description
Pricing ($/Unit)
Compliance
Status
Input Level
Output Level
VS Typ (V)
fin Typ (MHz)
fout Typ (MHz)
tJitter(Cy-Cy) Typ (ps)
tJitter(Period) Typ (ps)
tJitter(Φ) Typ (ps)
tR & tF Typ (ps)
tR & tF Max (ps)
TA Min (°C)
TA Max (°C)
Package Type