The document you are trying to download is gated.
Log into MyON to proceed.
NB3N3020: Clock Multiplier, LVPECL / LVCMOS, Programmable, 3.3 V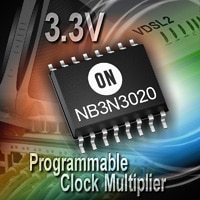 The NB3N3020 is a high precision, low phase noise selectable clock multiplier. The device takes a 5.0-27 MHz fundamental mode parallel resonant crystal or a 2.0-210 MHz LVCMOS single ended clock source and generates a differential LVPECL output and a single ended LVCMOS/LVTTL output at a selectable clock output frequency which is a multiple of the input clock frequency. Three tri-level LVCMOS/LVTTL single ended select pins set one of 26 possible clock multipliers. LVCMOS/LVTTL output enable (OE) tri-states clock outputs when low. This device is housed in 5.0 x 4.4 mm TSSOP-16.
Features
Benefits

Period Jitter RMS of 5.0 ps

Best in Class jitter performance

Selectable Clock Multiplier

Capability to generate upto 26 different clocks from single input clock source.

1 LV-PECL Differential Output and 1 LVMOS/LVTTL single ended output

Operating Range - 3.3V +/- 10%

Industrial Temperature Range -40C to +85C

| Applications | | End Products |
| --- | --- | --- |
| Routers, Consumer Networking, Set Top Box, Digital TV, Home Gateways, Servers, Consumer Electronics | | Servers, Routers, DTV, Set Top Box |
Technical Documentation & Design Resources
Evaluation/Development Tool Information
| Product | Status | Compliance | Short Description | Action |
| --- | --- | --- | --- | --- |
| NB3N3020DTGEVB | Active | | Clock Multiplier Evaluation Board | |
| | | |
| --- | --- | --- |
| Market Leadtime (weeks) | : | 13 to 16 |
| Avnet (2020-08-19 00:00) | : | <100 |
| ON Semiconductor (2020-09-02 00:00) | : | 22,752 |
| | | |
| --- | --- | --- |
| Market Leadtime (weeks) | : | 2 to 4 |
| ON Semiconductor (2020-09-02 00:00) | : | 25,000 |
Product
Description
Pricing ($/Unit)
Compliance
Status
Input Level
Output Level
VS Typ (V)
fin Typ (MHz)
fout Typ (MHz)
tJitter(Cy-Cy) Typ (ps)
tJitter(Period) Typ (ps)
tJitter(Φ) Typ (ps)
tR & tF Typ (ps)
tR & tF Max (ps)
TA Min (°C)
TA Max (°C)
Package Type