The document you are trying to download is gated.
Log into MyON to proceed.
NB7V58M: Clock / Data Multiplexer / Translator, 2:1 Differential, 1.8 V / 2.5 V / 3.3 V, with CML Outputs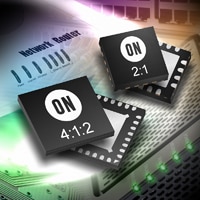 The NB7V58M is a high performance differential 2-to-1 Clock or Data multiplexer. The differential inputs incorporate internal 50-ohm termination resistors that are accessed through the VT pin. This feature allows the NB7V58M to accept various logic level standards, such as LVPECL, CML or LVDS. The NB7V58M produces minimal Clock or Data jitter operating up to 7GHz or 10.7Gbps, respectively. As such, the NB7V58M is ideal for SONET, GigE, Fiber Channel, Backplane and other Clock/Data distribution applications. The 16mA differential CML outputs provide matching internal 50-ohm terminations and 400mV output swings when externally terminated with a 50-ohm resistor to VCC. The NB7V58M is offered in a low profile 3mm x 3mm 16-pin QFN package and is a member of the GigaComm family of high performance Clock / Data products. For applications that require equalization, the pin-compatible NB7VQ58M is also available.
Features

Maximum Input Data Rate > 10.7 Gb/s

Data Dependent Jitter < 10 ps

Maximum Input Clock Frequency > 7 GHz

Random Clock Jitter < 0.8 ps RMS

180 ps Typical Propagation Delay

35 ps Typical Rise and Fall Times

Differential CML Outputs, 400 mV Peak-to-Peak, Typical

Operating Range: VCC = 1.71 V to 3.6 V with GND = 0 V

Internal 50-ohm Input Termination Resistors
| Applications | | End Products |
| --- | --- | --- |
| High Speed Clock or Data Multiplexing | | |
Technical Documentation & Design Resources
| | | |
| --- | --- | --- |
| Market Leadtime (weeks) | : | 13 to 16 |
| | | |
| --- | --- | --- |
| Market Leadtime (weeks) | : | 13 to 16 |
| PandS (2020-09-14 00:00) | : | <100 |
| | | |
| --- | --- | --- |
| Market Leadtime (weeks) | : | 17 to 20 |
Product
Description
Pricing ($/Unit)
Compliance
Status
Input/Output Ratio
Channels
Input Level
Output Level
VCC Typ (V)
fMax Typ (MHz)
tJitter Typ (ps)
tskew(OO) Max (ps)
tpd Typ (ns)
Package Type