The document you are trying to download is gated.
Log into MyON to proceed.
CAT34TS02: Temperature Sensor with EEPROM Memory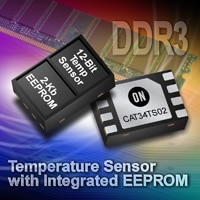 The CAT34TS02 combines a JC42.4 compliant Temperature Sensor (TS) with 2-Kb of Serial Presence Detect (SPD) EEPROM.
The TS measures temperature at least 10 times every second. Temperature readings can be retrieved by the host via the serial interface, and are compared to high, low and critical trigger limits stored into internal registers. Over or under limit conditions can be signaled on the open-drain
EVENT
pin.
The integrated 2-Kb SPD EEPROM is internally organized as 16 pages of 16 bytes each, for a total of 256 bytes. It features a 16-byte page write buffer and supports both the Standard (100 kHz) as well as Fast (400 kHz) I
2
C protocol.
Write operations to the lower half memory can be inhibited via software commands. The CAT34TS02 features Permanent, as well as Reversible Software Write Protection, as defined for DDR3 DIMMs.
Features

JEDEC JC42.4 Compliant Temperature Sensor

Temperature Range: -20°C to 125°C

DDR3 DIMM compliant SPD EEPROM

Schmitt triggers and noise suppression filters on SCL and SDA inputs

Low power CMOS technology

2 x 3 x 0.75 mm TDFN Package

These Devices are Pb-Free and are RoHS Compliant
Applications
End Products

Thermal Management and SPD for DDR3 Memory Modules

Notebook and Desktop Computers
Game Consoles
Technical Documentation & Design Resources
Case Outline
CAT34TS02VP2GT4C
Active
Temperature Sensor with EEPROM Memory
TDFN-8
511AK
1
260
Tape and Reel
4000
$0.6333
| | | |
| --- | --- | --- |
| Market Leadtime (weeks) | : | 17 to 20 |
Product
Description
Pricing ($/Unit)
Compliance
Status
Sensor Type
Data Transmission Standard
ICC Max (mA)
VCC Min (V)
VCC Max (V)
T Min (°C)
T Max (°C)
Temperature Error (°C)
Package Type
CAT34TS02VP2GT4C
$0.6333
Active
Case Outlines
511AK
Packages